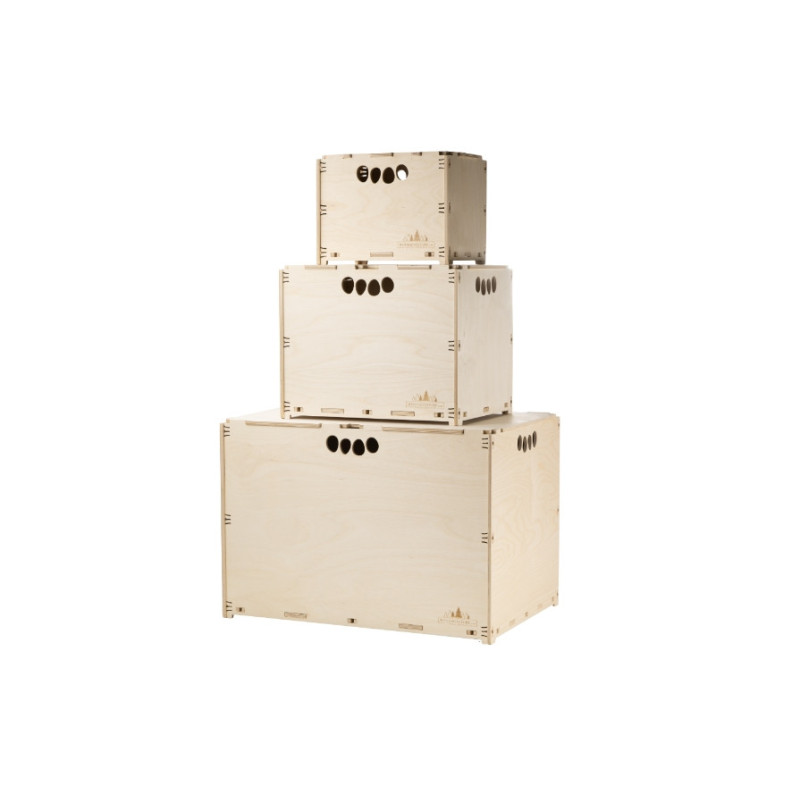 High-quality wooden box - stackable, robust and versatile
Are you looking for a dynamic and freely expandable storage system for your workshop, private basement or another area of ​​application? Then you should definitely take a look at our sophisticated wooden boxes. With us you can buy a wooden box that is robust, stackable and flexible. We offer you numerous models in different sizes, so that the right wooden box with lid should also be available for your needs.
Just take your time to look around and discover the diverse range in our online shop. We are a Czech company, but we ship your boxes throughout the EU. Since we are fully specialized in the production of wooden boxes and workbenches, we are real experts in this field and can offer you high-quality, functional and versatile solutions.
An expandable system - wooden box is stackable
When storage space suddenly runs out, new storage options must be created. Our wooden crates are an ideal choice here. These can be placed directly on the floor and stacked on top of each other. Shelves are not necessary in this case. But of course you can also store a wooden box with a lid from our online shop on shelves or place it on cupboards.
The different boxes can be stacked and combined with each other as desired. Smaller models can easily be placed on top of larger ones. Of course, you can also stack boxes of the same size on top of each other. So that you can handle the boxes easily, they are equipped with recesses on all sides that can be used as grip holes. These holes also ensure optimal ventilation.
Robust construction - ideal for heavy loads
When you buy a wooden box from us, you get a model that is also suitable for heavy loads. Our models are made of high-quality birch plywood and are extremely stable. Despite their resilience, they have relatively thin side walls with a thickness of 8 mm, so they don't take up unnecessary space. They also owe their stability to the special construction. We have developed a click system based on traditional wood binding techniques. This creates a sturdy framework.
At the same time, the boxes can be set up very easily and without screws or glue. If you don't overload the boxes and make sure they're not exposed to excessive indoor humidity, they'll last practically indefinitely.
Buy a wooden box with a lid in the desired size
In our online shop we present our wooden boxes in various sizes. As a result, there is certainly a suitable wooden box with lid for your purposes. This can be used optionally. It prevents the content from getting dusty. It also creates a neat and tidy look.
Our small boxes are ideal for small parts, accessories and tools. But there are also numerous larger boxes available. Of course, you can't just buy a wooden box from us if you're looking for a practical storage option. Of course, our crates are also suitable for transporting goods.
Order your wooden box conveniently in the online shop
Are you looking for a wooden box that is stackable, robust and available at a fair price? Then take a look around our online shop and simply order your boxes with a click. We offer you various payment methods as well as fast delivery directly to your company or to your private address. If you would like more information about our boxes or have any questions, please do not hesitate to contact us.
You can reach us via WhatsApp or email, for example!
Sorry for the inconvenience.
Search again what you are looking for